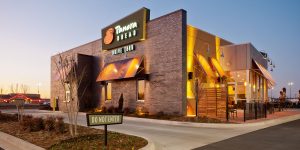 While many fast food and casual restaurant chains have been struggling, of late, Panera seems to be doing very well. Indeed, the company has seen steady growth over the past few years and, in fact, is now one of the largest chains in the fast-casual segment of the food service industry.
A broad slowdown in the industry, though, continues to put more and more pressure on restaurant companies to consolidate brands. This is starting to become a reality for Panera too, as net income has fallen each year since 2013. Though revenue hit $2.8 billion last year, net income fell to $145.6 million.
This trend, then, has led to many restaurant companies forging consolidation deals. Restaurant Brands International Inc, for example, owns Burger King and Tim Hortons but recently concluded a long, hard fight to buy Popeye's Louisiana Kitchen, Inc, just last week. In addition, Oak Hill Capital Partenrs plans to buy Checkers Drive-In Restaurants Inc for $525 million and Olive Garden owner Darden Restaurants Inc has just announced plans to buy the smaller Cheddar's Scratch Kitchen franchise for $780 million.
With that in mind, then, Panera has acknowledge the exploration of new strategies which might also involve similar sales. Indeed, the bakery chain—which sells breads, pastas, salads, sandwiches, and soups in more than 2,000 cafes in the United States and Canada—is working with advisors on a potential sale. The brand has a market value of roughly $6.5 billion and its potential suitors include bigwigs like JAB Holding Co, Domino's Pizza Inc, and even Starbucks Corporation.
Of course, much of this is speculation but it is certainly worth investigation. None of the companies mentioned above have commented on the possibility of this merger and Panera Chief Financial Officer Michael Bufano even shares: "As a matter of policy, we never comment on rumors or speculation."
As a chain, shares of Panera have increased 34 percent over the past year and jumped 39 percent since January, already. On the day, though, shares jumped up only 7 percent before activity was halted for brief volatility at the mere mention of a possible sale. When trading resumed, the stock continued to surge, reaching an all-time high of $292.42, consistently trading up nearly 8 percent. This puts the company on track to meet (and perhaps surpass) its best daily performance, which it posted on April 16, 2015, when shares surged 11.6 pecent.