ACNB Corporation (NASDAQ:ACNB) Chairman Frank Elsner III purchased 650 shares of the business's stock in a transaction that occurred on Tuesday, May 23rd. The stock was bought at an average cost of $29.28 per share, for a total transaction of $19,032.00. Following the completion of the acquisition, the chairman now directly owns 16,787 shares of the company's stock, valued at $491,523.36. The transaction was disclosed in a legal filing with the SEC, which is accessible through this link.
ACNB Corporation (NASDAQ:ACNB) traded down 0.34% during trading on Friday, hitting $29.10. 17,087 shares of the stock traded hands. ACNB Corporation has a one year low of $23.50 and a one year high of $32.85. The company has a 50-day moving average price of $29.62 and a 200 day moving average price of $30.11. The stock has a market cap of $176.55 million, a PE ratio of 16.09 and a beta of 0.25.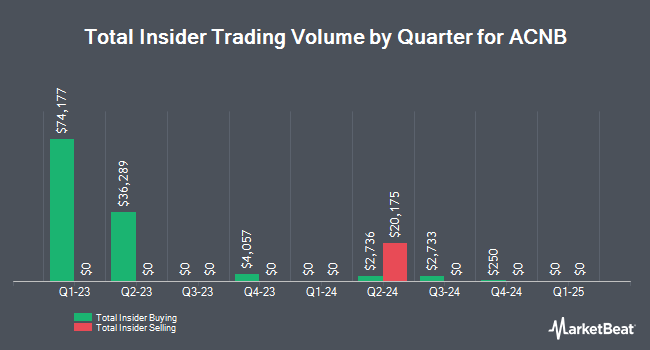 The firm also recently announced a quarterly dividend, which was paid on Thursday, June 15th. Stockholders of record on Thursday, June 1st were paid a $0.20 dividend. The ex-dividend date of this dividend was Tuesday, May 30th. This represents a $0.80 dividend on an annualized basis and a dividend yield of 2.75%. ACNB Corporation's dividend payout ratio (DPR) is presently 44.20%.
ILLEGAL ACTIVITY NOTICE: "Insider Buying: ACNB Corporation (ACNB) Chairman Buys 650 Shares of Stock" was originally reported by Transcript Daily and is the sole property of of Transcript Daily. If you are accessing this piece on another domain, it was illegally stolen and reposted in violation of U.S. & international copyright and trademark legislation. The original version of this piece can be read at https://transcriptdaily.com/2017/06/17/acnb-co-acnb-chairman-frank-elsner-iii-purchases-650-shares-of-stock-updated-updated.html.
ACNB Corporation Company Profile
ACNB Corporation is a financial holding company. The Company's banking operations are conducted through its operating subsidiary, ACNB Bank (the Bank), and offers a range of property and casualty, life and health insurance to both commercial and individual clients through its subsidiary, Russell Insurance Group, Inc (RIG).
Receive News & Ratings for ACNB Corporation Daily - Enter your email address below to receive a concise daily summary of the latest news and analysts' ratings for ACNB Corporation and related companies with MarketBeat.com's FREE daily email newsletter.