CNB Financial Corporation (NASDAQ:CCNE) is set to release its earnings data on Wednesday, July 19th. Analysts expect CNB Financial Corporation to post earnings of $0.32 per share for the quarter.
Shares of CNB Financial Corporation (NASDAQ:CCNE) opened at 24.47 on Tuesday. CNB Financial Corporation has a 52 week low of $18.01 and a 52 week high of $28.43. The firm has a 50-day moving average of $22.62 and a 200-day moving average of $24.36. The firm has a market cap of $371.87 million, a PE ratio of 16.29 and a beta of 0.82.
WARNING: This piece was posted by Transcript Daily and is the property of of Transcript Daily. If you are viewing this piece on another site, it was copied illegally and republished in violation of U.S. & international copyright law. The correct version of this piece can be viewed at https://transcriptdaily.com/2017/07/18/cnb-financial-corporation-ccne-set-to-announce-earnings-on-wednesday.html.
Separately, Zacks Investment Research raised shares of CNB Financial Corporation from a "sell" rating to a "hold" rating in a report on Tuesday, April 25th.
About CNB Financial Corporation
CNB Financial Corporation is a financial holding company. The Company is the holding company of CNB Bank (the Bank); CNB Securities Corporation, which maintains investments in debt and equity securities; CNB Insurance Agency, which provides for the sale of nonproprietary annuities and other insurance products, and Holiday Financial Services Corporation, which offers small balance unsecured loans and secured loans, primarily collateralized by automobiles and equipment.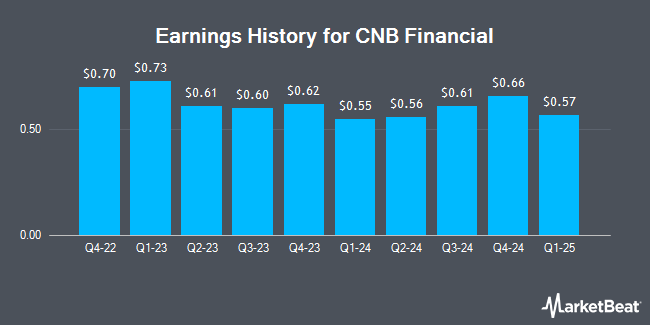 Receive News & Ratings for CNB Financial Corporation Daily - Enter your email address below to receive a concise daily summary of the latest news and analysts' ratings for CNB Financial Corporation and related companies with MarketBeat.com's FREE daily email newsletter.