Liberum Capital reaffirmed their sell rating on shares of Halma plc (LON:HLMA) in a research report report published on Wednesday. Liberum Capital currently has a GBX 910 ($11.77) price target on the stock.
HLMA has been the subject of several other research reports. Deutsche Bank AG restated a buy rating and issued a GBX 1,148 ($14.85) price target on shares of Halma plc in a report on Wednesday, May 3rd. Jefferies Group LLC lifted their price target on Halma plc from GBX 1,185 ($15.33) to GBX 1,265 ($16.36) and gave the company a buy rating in a report on Tuesday, August 8th. BNP Paribas restated an underperform rating and issued a GBX 900 ($11.64) price target on shares of Halma plc in a report on Tuesday, July 18th. Goldman Sachs Group, Inc. (The) restated a neutral rating on shares of Halma plc in a report on Friday, July 14th. Finally, J P Morgan Chase & Co restated a neutral rating and issued a GBX 925 ($11.96) price target on shares of Halma plc in a report on Wednesday, June 14th. Two investment analysts have rated the stock with a sell rating, five have given a hold rating and five have given a buy rating to the company. Halma plc currently has an average rating of Hold and a consensus price target of GBX 1,094.55 ($14.16).
Halma plc (LON HLMA) opened at 1090.00 on Wednesday. Halma plc has a 52 week low of GBX 879.50 and a 52 week high of GBX 1,182.00. The firm's 50-day moving average is GBX 1,099.62 and its 200 day moving average is GBX 1,069.23. The stock's market cap is GBX 4.13 billion.
ILLEGAL ACTIVITY NOTICE: "Halma plc's (HLMA) Sell Rating Reiterated at Liberum Capital" was published by Transcript Daily and is the property of of Transcript Daily. If you are viewing this piece of content on another domain, it was illegally copied and reposted in violation of U.S. & international trademark & copyright law. The original version of this piece of content can be accessed at https://transcriptdaily.com/2017/09/02/halma-plcs-hlma-sell-rating-reiterated-at-liberum-capital.html.
The business also recently declared a dividend, which was paid on Wednesday, August 16th. Shareholders of record on Thursday, July 13th were issued a GBX 8.38 ($0.11) dividend. This represents a yield of 0.71%. The ex-dividend date of this dividend was Thursday, July 13th. This is a boost from Halma plc's previous dividend of $5.33.
In other Halma plc news, insider Andrew Williams sold 49,651 shares of the company's stock in a transaction that occurred on Monday, August 14th. The stock was sold at an average price of GBX 1,095 ($14.16), for a total value of £543,678.45 ($703,153.71).
Halma plc Company Profile
Halma plc is involved in the manufacture of a range of products that protect and improve the quality of life for people. The Company operates through four segments: Process Safety, Infrastructure Safety, Medical, and Environmental & Analysis. The Process Safety includes products, which protect assets and people at work, including specialized interlocks, instruments, and explosion protection and corrosion monitoring products.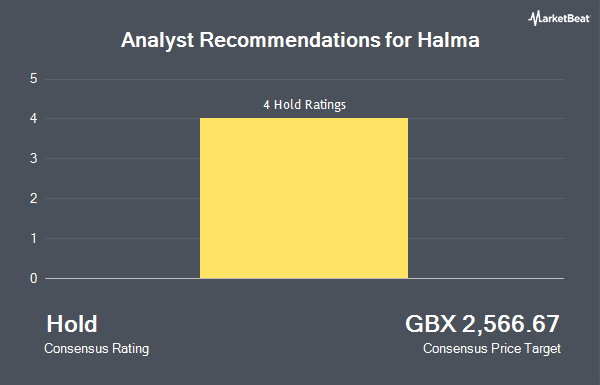 Receive News & Ratings for Halma plc Daily - Enter your email address below to receive a concise daily summary of the latest news and analysts' ratings for Halma plc and related companies with MarketBeat.com's FREE daily email newsletter.