Peel Hunt reaffirmed their buy rating on shares of GB Group plc (LON:GBG) in a report published on Monday morning. The brokerage currently has a GBX 467 ($6.19) target price on the stock.
GBG has been the topic of several other reports. FinnCap restated a buy rating and set a GBX 425 ($5.64) price objective on shares of GB Group plc in a research note on Tuesday, July 25th. Citigroup Inc. restated a buy rating and set a GBX 455 ($6.04) price objective on shares of GB Group plc in a research note on Wednesday, June 7th. Finally, Canaccord Genuity raised their price objective on GB Group plc from GBX 415 ($5.50) to GBX 430 ($5.70) and gave the company a buy rating in a research note on Tuesday, June 6th. Six research analysts have rated the stock with a buy rating, GB Group plc currently has a consensus rating of Buy and a consensus price target of GBX 414.50 ($5.50).
Shares of GB Group plc (LON:GBG) opened at 361.50 on Monday. GB Group plc has a 52-week low of GBX 205.76 and a 52-week high of GBX 414.00. The firm's 50-day moving average is GBX 373.04 and its 200 day moving average is GBX 356.42. The company's market capitalization is GBX 486.95 million.
ILLEGAL ACTIVITY NOTICE: "Peel Hunt Reaffirms Buy Rating for GB Group plc (GBG)" was published by Transcript Daily and is owned by of Transcript Daily. If you are reading this story on another domain, it was copied illegally and republished in violation of United States & international trademark & copyright legislation. The legal version of this story can be accessed at https://transcriptdaily.com/2017/10/05/peel-hunt-reaffirms-buy-rating-for-gb-group-plc-gbg.html.
In related news, insider David A. Rasche acquired 14,695 shares of the company's stock in a transaction on Thursday, July 13th. The shares were acquired at an average cost of GBX 339 ($4.50) per share, for a total transaction of £49,816.05 ($66,077.80).
About GB Group plc
GB Group plc (GBG) is a global specialist in identity data intelligence. Its segments include Identity Proofing division and Identity Solutions division. The Identity Proofing division provides Identification (ID) Verification, ID Employ and Comply services and ID Fraud and Risk Management Services. It also includes the operations of ID Scan Biometrics Ltd, a provider of software that automates on-boarding of customers and employees by simplifying the identity verification and data capture process.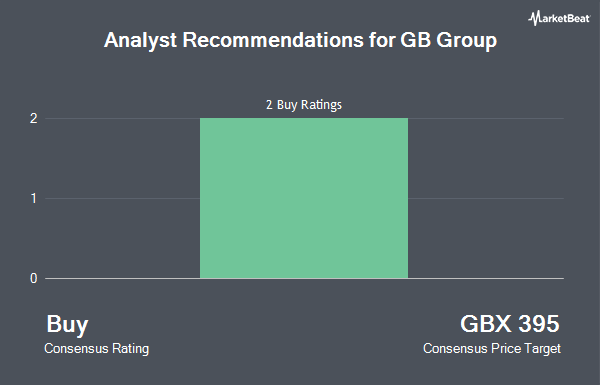 Receive News & Ratings for GB Group plc Daily - Enter your email address below to receive a concise daily summary of the latest news and analysts' ratings for GB Group plc and related companies with MarketBeat.com's FREE daily email newsletter.