CNB Financial Corporation (NASDAQ:CCNE) announced its quarterly earnings results on Thursday. The bank reported $0.47 earnings per share for the quarter, beating the Thomson Reuters' consensus estimate of $0.39 by $0.08, Bloomberg Earnings reports. CNB Financial Corporation had a return on equity of 10.92% and a net margin of 20.21%.
Shares of CNB Financial Corporation (NASDAQ:CCNE) traded up 0.04% during midday trading on Thursday, hitting $27.82. The stock had a trading volume of 25,308 shares. The stock's 50 day moving average price is $26.50 and its 200 day moving average price is $24.58. The firm has a market cap of $422.47 million, a price-to-earnings ratio of 16.74 and a beta of 0.87. CNB Financial Corporation has a 12 month low of $19.53 and a 12 month high of $28.57.
CCNE has been the topic of several analyst reports. Zacks Investment Research upgraded CNB Financial Corporation from a "hold" rating to a "buy" rating and set a $28.00 price target on the stock in a research report on Monday, July 24th. BidaskClub cut CNB Financial Corporation from a "buy" rating to a "hold" rating in a research report on Monday, July 31st.
COPYRIGHT VIOLATION NOTICE: "CNB Financial Corporation (CCNE) Releases Quarterly Earnings Results, Beats Expectations By $0.08 EPS" was originally published by Transcript Daily and is the property of of Transcript Daily. If you are viewing this news story on another site, it was illegally copied and republished in violation of US & international copyright and trademark laws. The original version of this news story can be viewed at https://transcriptdaily.com/2017/10/19/cnb-financial-corporation-ccne-releases-quarterly-earnings-results-beats-expectations-by-0-08-eps.html.
In other news, Director Dennis L. Merrey sold 2,000 shares of CNB Financial Corporation stock in a transaction dated Wednesday, August 2nd. The stock was sold at an average price of $26.56, for a total transaction of $53,120.00. Following the transaction, the director now directly owns 49,570 shares of the company's stock, valued at approximately $1,316,579.20. The transaction was disclosed in a legal filing with the SEC, which can be accessed through this link. 4.40% of the stock is owned by insiders.
CNB Financial Corporation Company Profile
CNB Financial Corporation is a financial holding company. The Company is the holding company of CNB Bank (the Bank); CNB Securities Corporation, which maintains investments in debt and equity securities; CNB Insurance Agency, which provides for the sale of nonproprietary annuities and other insurance products, and Holiday Financial Services Corporation, which offers small balance unsecured loans and secured loans, primarily collateralized by automobiles and equipment.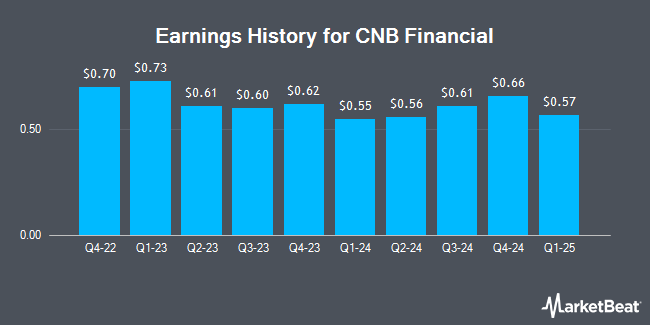 Receive News & Ratings for CNB Financial Corporation Daily - Enter your email address below to receive a concise daily summary of the latest news and analysts' ratings for CNB Financial Corporation and related companies with MarketBeat.com's FREE daily email newsletter.