Omega Flex, Inc. (NASDAQ:OFLX) released its earnings results on Thursday. The industrial products company reported $0.40 earnings per share for the quarter, Bloomberg Earnings reports. Omega Flex had a return on equity of 30.58% and a net margin of 15.35%. The business had revenue of $24.92 million for the quarter.
Shares of Omega Flex (OFLX) traded up 2.73% during trading on Friday, reaching $66.20. The company had a trading volume of 5,370 shares. The firm's 50 day moving average price is $65.52 and its 200 day moving average price is $60.77. The firm has a market capitalization of $668.02 million, a P/E ratio of 43.99 and a beta of 1.25. Omega Flex has a 12 month low of $34.62 and a 12 month high of $74.55.
The business also recently disclosed a quarterly dividend, which was paid on Tuesday, October 3rd. Investors of record on Friday, September 22nd were given a dividend of $0.22 per share. The ex-dividend date of this dividend was Thursday, September 21st. This represents a $0.88 dividend on an annualized basis and a yield of 1.37%. Omega Flex's payout ratio is 58.28%.
An institutional investor recently raised its position in Omega Flex stock. The Manufacturers Life Insurance Company raised its stake in shares of Omega Flex, Inc. (NASDAQ:OFLX) by 88.6% during the second quarter, according to the company in its most recent 13F filing with the SEC. The fund owned 2,744 shares of the industrial products company's stock after buying an additional 1,289 shares during the quarter. The Manufacturers Life Insurance Company 's holdings in Omega Flex were worth $177,000 at the end of the most recent reporting period. 23.16% of the stock is currently owned by institutional investors.
TRADEMARK VIOLATION NOTICE: "Omega Flex, Inc. (OFLX) Posts Quarterly Earnings Results" was published by Transcript Daily and is the property of of Transcript Daily. If you are accessing this piece on another website, it was copied illegally and reposted in violation of U.S. and international trademark and copyright legislation. The original version of this piece can be viewed at https://transcriptdaily.com/2017/10/20/omega-flex-inc-oflx-posts-quarterly-earnings-results.html.
Separately, BidaskClub downgraded Omega Flex from a "strong-buy" rating to a "buy" rating in a research report on Monday, July 24th.
Omega Flex Company Profile
Omega Flex, Inc is a manufacturer of flexible metal hose. The Company is engaged in a range of different markets, including construction, manufacturing, transportation, petrochemical, pharmaceutical and other industries. It operates through manufacture and sale of flexible metal hose and accessories segment.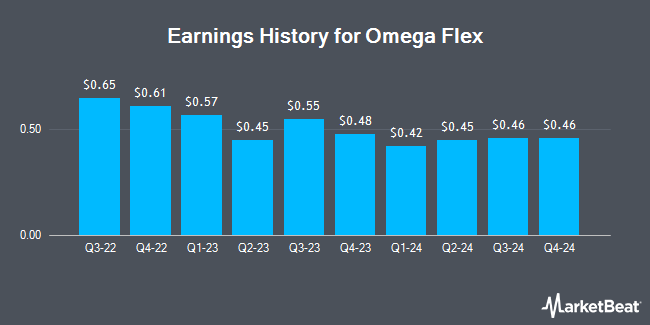 Receive News & Ratings for Omega Flex Inc. Daily - Enter your email address below to receive a concise daily summary of the latest news and analysts' ratings for Omega Flex Inc. and related companies with MarketBeat.com's FREE daily email newsletter.