Snap-On Incorporated (NYSE:SNA) declared a quarterly dividend on Monday, November 6th, RTT News reports. Investors of record on Friday, November 17th will be paid a dividend of 0.82 per share on Friday, December 8th. This represents a $3.28 annualized dividend and a dividend yield of 2.10%. The ex-dividend date of this dividend is Thursday, November 16th. This is a positive change from Snap-On's previous quarterly dividend of $0.71.
Snap-On has raised its dividend payment by an average of 17.1% per year over the last three years and has raised its dividend annually for the last 7 consecutive years. Snap-On has a payout ratio of 28.1% indicating that its dividend is sufficiently covered by earnings. Analysts expect Snap-On to earn $10.93 per share next year, which means the company should continue to be able to cover its $2.84 annual dividend with an expected future payout ratio of 26.0%.
Snap-On (SNA) opened at $155.87 on Friday. Snap-On has a 52-week low of $140.83 and a 52-week high of $181.73. The company has a debt-to-equity ratio of 0.26, a quick ratio of 1.22 and a current ratio of 1.75. The stock has a market cap of $8,939.30, a PE ratio of 15.82, a P/E/G ratio of 1.46 and a beta of 1.12.
Snap-On (NYSE:SNA) last announced its quarterly earnings results on Thursday, October 19th. The company reported $2.45 earnings per share (EPS) for the quarter, beating the consensus estimate of $2.43 by $0.02. Snap-On had a net margin of 15.95% and a return on equity of 20.82%. The company had revenue of $903.80 million for the quarter, compared to analysts' expectations of $889.22 million. During the same quarter in the previous year, the company earned $2.22 earnings per share. Snap-On's quarterly revenue was up 8.4% on a year-over-year basis. research analysts forecast that Snap-On will post 10.09 EPS for the current fiscal year.
ILLEGAL ACTIVITY NOTICE: This news story was reported by Transcript Daily and is owned by of Transcript Daily. If you are viewing this news story on another domain, it was copied illegally and republished in violation of international copyright and trademark legislation. The legal version of this news story can be read at https://transcriptdaily.com/2017/11/11/snap-on-incorporated-sna-to-go-ex-dividend-on-november-16th.html.
Several brokerages recently issued reports on SNA. B. Riley reiterated a "buy" rating on shares of Snap-On in a research report on Wednesday, November 1st. Jefferies Group LLC reiterated a "hold" rating and set a $175.00 price target on shares of Snap-On in a research report on Friday, November 3rd. Robert W. Baird reiterated an "outperform" rating and set a $197.00 price target on shares of Snap-On in a research report on Wednesday, August 2nd. BidaskClub upgraded shares of Snap-On from a "strong sell" rating to a "sell" rating in a research report on Monday, July 31st. Finally, Zacks Investment Research upgraded shares of Snap-On from a "sell" rating to a "hold" rating in a research report on Monday, October 9th. Two investment analysts have rated the stock with a sell rating, two have issued a hold rating and seven have given a buy rating to the company. Snap-On presently has an average rating of "Hold" and a consensus price target of $192.00.
Snap-On declared that its Board of Directors has initiated a stock repurchase plan on Monday, August 7th that authorizes the company to buyback $500.00 million in outstanding shares. This buyback authorization authorizes the company to reacquire shares of its stock through open market purchases. Stock buyback plans are typically a sign that the company's board of directors believes its shares are undervalued.
About Snap-On
Snap-on Incorporated is a manufacturer and marketer of tools, equipment, diagnostics, repair information and systems solutions. The Company's segments include the Commercial & Industrial Group, the Snap-on Tools Group, the Repair Systems & Information Group, and Financial Services. The Commercial & Industrial Group consists of business operations serving a range of industrial and commercial customers, including customers in the aerospace, natural resources, government, power generation, transportation and technical education markets.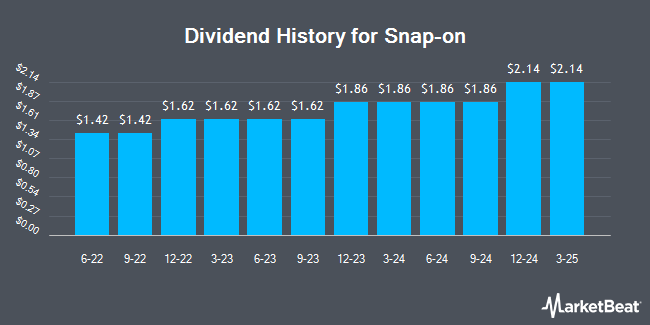 Receive News & Ratings for Snap-On Incorporated Daily - Enter your email address below to receive a concise daily summary of the latest news and analysts' ratings for Snap-On Incorporated and related companies with MarketBeat.com's FREE daily email newsletter.