Cardiome Pharma Corporation (NASDAQ:CRME) (TSE:COM) announced its quarterly earnings data on Tuesday. The biopharmaceutical company reported ($0.20) earnings per share for the quarter, missing the Zacks' consensus estimate of ($0.16) by ($0.04), Briefing.com reports. Cardiome Pharma Corporation had a negative net margin of 110.95% and a negative return on equity of 78.51%. The firm had revenue of $6.02 million during the quarter, compared to analyst estimates of $7.42 million. During the same quarter in the previous year, the business posted ($0.19) earnings per share. Cardiome Pharma Corporation's revenue for the quarter was up 14.9% compared to the same quarter last year.
Shares of Cardiome Pharma Corporation (CRME) traded up $0.03 during trading hours on Tuesday, reaching $1.48. 83,000 shares of the company traded hands, compared to its average volume of 111,595. Cardiome Pharma Corporation has a 12-month low of $1.29 and a 12-month high of $4.84. The company has a current ratio of 4.81, a quick ratio of 4.12 and a debt-to-equity ratio of 0.99.
A number of equities research analysts have recently weighed in on the stock. Zacks Investment Research lowered shares of Cardiome Pharma Corporation from a "buy" rating to a "hold" rating in a report on Tuesday. ValuEngine lowered shares of Cardiome Pharma Corporation from a "sell" rating to a "strong sell" rating in a report on Friday, September 1st. HC Wainwright set a $10.00 price objective on shares of Cardiome Pharma Corporation and gave the company a "buy" rating in a report on Tuesday, August 22nd. Finally, Canaccord Genuity set a $8.00 price objective on shares of Cardiome Pharma Corporation and gave the company a "buy" rating in a report on Monday, August 21st. One investment analyst has rated the stock with a sell rating, one has issued a hold rating and three have given a buy rating to the company. The company currently has an average rating of "Hold" and an average price target of $6.19.
COPYRIGHT VIOLATION WARNING: This story was first published by Transcript Daily and is the property of of Transcript Daily. If you are accessing this story on another website, it was copied illegally and reposted in violation of United States and international copyright and trademark law. The correct version of this story can be accessed at https://transcriptdaily.com/2017/11/15/cardiome-pharma-corporation-crme-releases-earnings-results-misses-expectations-by-0-04-eps.html.
About Cardiome Pharma Corporation
Cardiome Pharma Corp. (Cardiome) is a specialty pharmaceutical company. The Company is engaged in the development and commercialization of cardiovascular therapies for heart disease. The Company's segments are Europe and Rest of World. Cardiome has two marketed, in-hospital, cardiology products, which include BRINAVESS (vernakalant IV), approved in Europe and other territories for the conversion of onset atrial fibrillation (AF) to sinus rhythm in adults, and AGGRASTAT (tirofiban hydrochloride (HCl)), indicated for use in patients with acute coronary syndrome.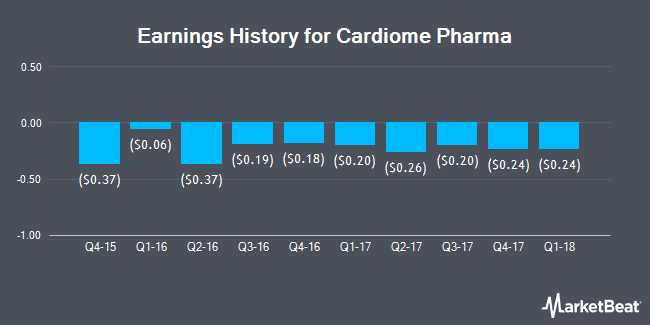 Receive News & Ratings for Cardiome Pharma Corporation Daily - Enter your email address below to receive a concise daily summary of the latest news and analysts' ratings for Cardiome Pharma Corporation and related companies with MarketBeat.com's FREE daily email newsletter.