Buckle, Inc. (The) (NYSE:BKE) posted its quarterly earnings data on Friday. The company reported $0.41 earnings per share (EPS) for the quarter, beating the consensus estimate of $0.40 by $0.01, Briefing.com reports. The business had revenue of $224.30 million during the quarter, compared to analysts' expectations of $224.12 million. Buckle, Inc. (The) had a net margin of 9.40% and a return on equity of 19.96%. The business's revenue was down 6.2% on a year-over-year basis. During the same period last year, the firm posted $0.49 earnings per share.
Shares of Buckle, Inc. (BKE) traded up $0.85 during trading hours on Friday, reaching $20.75. 1,660,000 shares of the company were exchanged, compared to its average volume of 452,036. The company has a market capitalization of $1,060.00, a PE ratio of 10.61 and a beta of 0.94. Buckle, Inc. has a 1 year low of $13.50 and a 1 year high of $27.10.
The firm also recently announced a quarterly dividend, which was paid on Friday, October 27th. Investors of record on Friday, October 13th were issued a dividend of $0.25 per share. This represents a $1.00 dividend on an annualized basis and a yield of 4.82%. The ex-dividend date of this dividend was Thursday, October 12th. Buckle, Inc. (The)'s payout ratio is 55.56%.
ILLEGAL ACTIVITY NOTICE: "Buckle, Inc. (The) (BKE) Posts Quarterly Earnings Results, Beats Estimates By $0.01 EPS" was first reported by Transcript Daily and is the property of of Transcript Daily. If you are reading this piece of content on another domain, it was stolen and reposted in violation of US & international trademark & copyright laws. The correct version of this piece of content can be viewed at https://transcriptdaily.com/2017/11/18/buckle-inc-the-bke-posts-quarterly-earnings-results-beats-estimates-by-0-01-eps.html.
Several research analysts have recently issued reports on the stock. ValuEngine cut shares of Buckle, Inc. (The) from a "buy" rating to a "hold" rating in a report on Monday, August 7th. BidaskClub cut shares of Buckle, Inc. (The) from a "hold" rating to a "sell" rating in a report on Monday, August 14th. Deutsche Bank AG restated a "sell" rating and set a $15.00 target price on shares of Buckle, Inc. (The) in a report on Wednesday, August 2nd. Finally, Zacks Investment Research upgraded shares of Buckle, Inc. (The) from a "sell" rating to a "buy" rating and set a $18.00 target price for the company in a report on Wednesday, November 1st.
In related news, VP Kyle Hanson sold 4,100 shares of the firm's stock in a transaction that occurred on Wednesday, October 18th. The shares were sold at an average price of $15.95, for a total transaction of $65,395.00. Following the completion of the sale, the vice president now directly owns 24,900 shares in the company, valued at $397,155. The sale was disclosed in a legal filing with the Securities & Exchange Commission, which is available at this link. Company insiders own 41.70% of the company's stock.
Buckle, Inc. (The) Company Profile
The Buckle, Inc is a retailer of casual apparel, footwear and accessories for young men and women. As of January 28, 2017, the Company operated 467 retail stores in 44 states throughout the United States under the names Buckle and The Buckle. The Company markets a selection of brand name casual apparel, including denims, other casual bottoms, tops, sportswear, outerwear, accessories and footwear.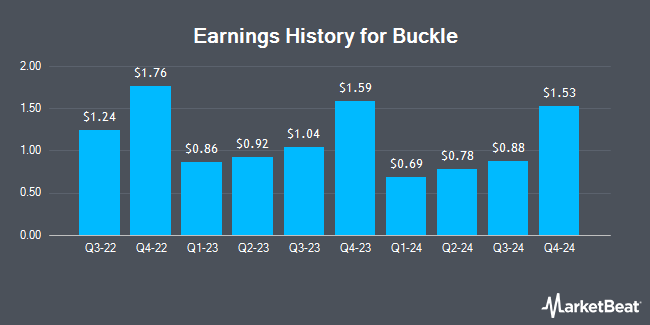 Receive News & Ratings for Buckle Inc. (The) Daily - Enter your email address below to receive a concise daily summary of the latest news and analysts' ratings for Buckle Inc. (The) and related companies with MarketBeat.com's FREE daily email newsletter.