Shares of Phoenix Group Holdings (LON:PHNX) have earned a consensus rating of "Hold" from the nine analysts that are covering the stock, Marketbeat reports. One investment analyst has rated the stock with a sell rating, three have issued a hold rating and five have issued a buy rating on the company. The average 1 year target price among analysts that have updated their coverage on the stock in the last year is GBX 805.13 ($10.78).
Several research firms have weighed in on PHNX. HSBC lifted their price target on shares of Phoenix Group from GBX 810 ($10.85) to GBX 820 ($10.98) and gave the company a "hold" rating in a research note on Thursday, November 23rd. J P Morgan Chase & Co reaffirmed an "overweight" rating and issued a GBX 837 ($11.21) price target on shares of Phoenix Group in a research note on Friday, August 25th. Finally, Shore Capital reaffirmed a "buy" rating on shares of Phoenix Group in a research note on Thursday, August 24th.
Phoenix Group (LON:PHNX) traded down GBX 10 ($0.13) on Monday, reaching GBX 753 ($10.08). 436,978 shares of the company's stock traded hands, compared to its average volume of 565,202. Phoenix Group has a 12-month low of GBX 694.98 ($9.31) and a 12-month high of GBX 817.48 ($10.95).
TRADEMARK VIOLATION NOTICE: "Phoenix Group Holdings (PHNX) Given Average Recommendation of "Hold" by Brokerages" was originally reported by Transcript Daily and is the sole property of of Transcript Daily. If you are reading this report on another publication, it was stolen and reposted in violation of United States and international copyright and trademark laws. The correct version of this report can be viewed at https://transcriptdaily.com/2017/12/03/phoenix-group-holdings-phnx-given-average-recommendation-of-hold-by-brokerages.html.
About Phoenix Group
Phoenix Group Holdings is a consolidator of closed life assurance funds specializing in the management and acquisition of closed life and pension funds. The Company's segment: life assurance (including its management services operations) is referred to as Phoenix Life. It has four operating life companies, which hold policyholder assets and a distribution business, SunLife.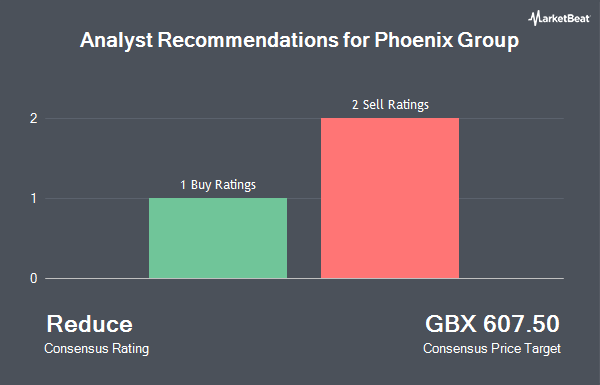 Receive News & Ratings for Phoenix Group Holdings Daily - Enter your email address below to receive a concise daily summary of the latest news and analysts' ratings for Phoenix Group Holdings and related companies with MarketBeat.com's FREE daily email newsletter.