Marathon Gold Corp (TSE:MOZ) Director Janice Alayne Stairs purchased 10,000 shares of the firm's stock in a transaction that occurred on Tuesday, December 5th. The stock was acquired at an average price of C$1.05 per share, with a total value of C$10,500.00.
Janice Alayne Stairs also recently made the following trade(s):
On Thursday, December 7th, Janice Alayne Stairs purchased 25,000 shares of Marathon Gold stock. The stock was acquired at an average price of C$1.00 per share, with a total value of C$25,000.00.
Shares of Marathon Gold Corp (MOZ) traded down C$0.01 during mid-day trading on Monday, reaching C$1.00. 134,718 shares of the company traded hands, compared to its average volume of 383,172. Marathon Gold Corp has a one year low of C$0.45 and a one year high of C$1.36.
Separately, Royal Bank Of Canada increased their price target on shares of Marathon Gold from C$1.70 to C$1.80 and gave the stock an "outperform" rating in a research note on Friday.
COPYRIGHT VIOLATION WARNING: "Insider Buying: Marathon Gold Corp (MOZ) Director Acquires C$10,500.00 in Stock" was first posted by Transcript Daily and is the sole property of of Transcript Daily. If you are viewing this report on another publication, it was illegally stolen and reposted in violation of international copyright legislation. The correct version of this report can be viewed at https://transcriptdaily.com/2017/12/11/insider-buying-marathon-gold-corp-moz-director-acquires-c10500-00-in-stock.html.
About Marathon Gold
Marathon Gold Corp (Marathon) is a Canada-based company engaged in the acquisition, exploration and development of natural resource properties located in North America. The Company's projects include Valentine gold Camp, Baie Verte gold property, The Bonanza Mine and The Gold Reef property. The Valentine Gold Camp is in west central Newfoundland and includes over four zones with existing mineral resources, the Leprechaun, Marathon, Sprite and Victory Deposits.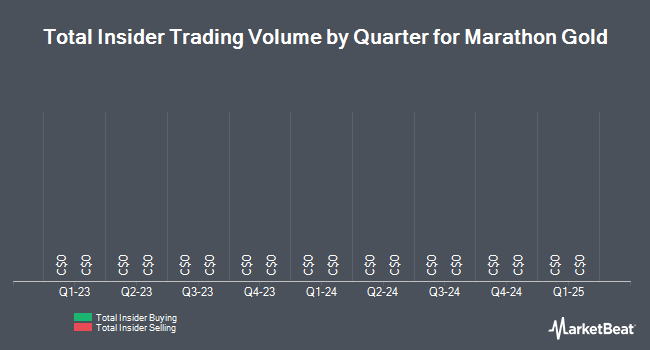 Receive News & Ratings for Marathon Gold Corp Daily - Enter your email address below to receive a concise daily summary of the latest news and analysts' ratings for Marathon Gold Corp and related companies with MarketBeat.com's FREE daily email newsletter.