TUI (LON:TUI) had its price objective hoisted by Deutsche Bank from GBX 1,350 ($18.17) to GBX 1,550 ($20.86) in a report released on Monday morning. The firm currently has a buy rating on the stock.
TUI has been the subject of a number of other reports. HSBC started coverage on TUI in a report on Monday, November 20th. They set a buy rating and a GBX 1,525 ($20.52) price objective for the company. Barclays restated an overweight rating and set a GBX 1,480 ($19.92) price objective on shares of TUI in a report on Tuesday, November 7th. Credit Suisse Group upgraded TUI to a neutral rating and upped their price objective for the stock from GBX 1,100 ($14.80) to GBX 1,300 ($17.50) in a report on Monday, August 14th. Shore Capital restated a buy rating on shares of TUI in a report on Thursday, September 28th. Finally, J P Morgan Chase & Co restated an overweight rating and set a GBX 1,345 ($18.10) price objective on shares of TUI in a report on Friday, September 29th. One research analyst has rated the stock with a sell rating, one has assigned a hold rating and six have given a buy rating to the company's stock. TUI currently has an average rating of Buy and a consensus price target of GBX 1,342.86 ($18.07).
Shares of TUI (LON TUI) opened at GBX 1,380 ($18.57) on Monday. TUI has a twelve month low of GBX 934.38 ($12.58) and a twelve month high of GBX 1,404 ($18.90).
ILLEGAL ACTIVITY WARNING: "TUI (TUI) Price Target Increased to GBX 1,550 by Analysts at Deutsche Bank" was first published by Transcript Daily and is the property of of Transcript Daily. If you are accessing this story on another website, it was illegally copied and reposted in violation of United States and international copyright law. The original version of this story can be viewed at https://transcriptdaily.com/2017/12/12/tui-tui-price-target-increased-to-gbx-1550-by-analysts-at-deutsche-bank.html.
TUI Company Profile
TUI AG is a Germany-based integrated tourism group. The Company operates through the following segments: Central Region, Western Region, Hotels and Resorts, Cruises and Other Tourism. The Central Region segment comprises the tour operators and airlines in Germany and tour operators in Austria, Poland and Switzerland.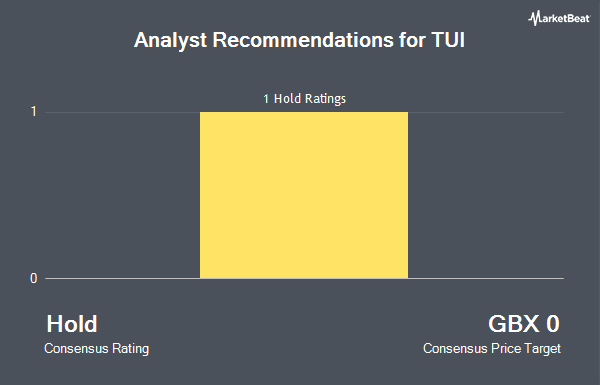 Receive News & Ratings for Tui AG Daily - Enter your email address below to receive a concise daily summary of the latest news and analysts' ratings for Tui AG and related companies with MarketBeat.com's FREE daily email newsletter.