Cameco (TSE:CCO) (NYSE:CCJ) had its price objective hoisted by Scotiabank from C$10.50 to C$11.00 in a research note published on Thursday. The firm currently has an underperform rating on the stock.
CCO has been the subject of a number of other research reports. TD Securities upped their price objective on Cameco from C$15.00 to C$18.00 and gave the company a buy rating in a report on Tuesday, December 5th. BMO Capital Markets set a C$15.00 price objective on Cameco and gave the company an outperform rating in a report on Monday, February 12th. Royal Bank of Canada dropped their price objective on Cameco from C$16.00 to C$15.00 and set an outperform rating for the company in a report on Monday, October 30th. CSFB dropped their price objective on Cameco from C$11.50 to C$11.25 in a report on Monday, January 8th. Finally, Paradigm Capital lowered their price target on Cameco from C$14.50 to C$12.50 and set a hold rating for the company in a report on Thursday, February 8th. One analyst has rated the stock with a sell rating, two have issued a hold rating and three have assigned a buy rating to the company's stock. The stock currently has a consensus rating of Hold and a consensus price target of C$13.39.
Shares of Cameco (CCO) opened at C$11.65 on Thursday. The company has a market capitalization of $4,610.00, a PE ratio of -22.40 and a beta of 0.81. Cameco has a fifty-two week low of C$9.90 and a fifty-two week high of C$15.89.
ILLEGAL ACTIVITY NOTICE: "Cameco (CCO) PT Raised to C$11.00" was reported by Transcript Daily and is the sole property of of Transcript Daily. If you are reading this report on another domain, it was illegally copied and republished in violation of U.S. and international copyright & trademark legislation. The correct version of this report can be read at https://transcriptdaily.com/2018/02/25/cameco-cco-pt-raised-to-c11-00.html.
About Cameco
Cameco Corporation (Cameco) is a uranium producer. The Company is primarily engaged in the exploration for and the development, mining, refining, conversion, fabrication and trading of uranium for sale as fuel for generating electricity in nuclear power reactors in Canada and other countries. The Company operates through three segments: uranium, fuel services and NUKEM.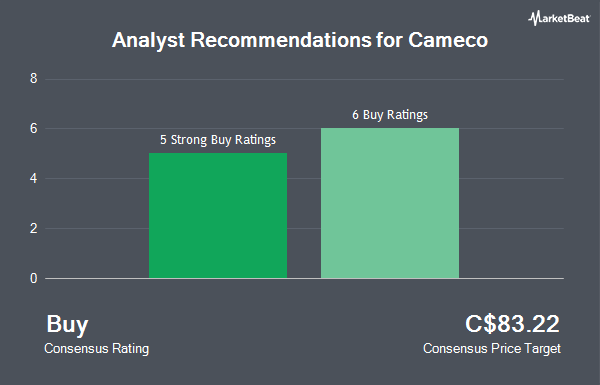 Receive News & Ratings for Cameco Daily - Enter your email address below to receive a concise daily summary of the latest news and analysts' ratings for Cameco and related companies with MarketBeat.com's FREE daily email newsletter.