Zosano Pharma (NASDAQ:ZSAN) issued its quarterly earnings data on Tuesday. The biotechnology company reported ($4.16) earnings per share (EPS) for the quarter, topping the Thomson Reuters' consensus estimate of ($4.60) by $0.44, Bloomberg Earnings reports.
Shares of ZSAN stock opened at $4.72 on Wednesday. Zosano Pharma has a 12-month low of $4.33 and a 12-month high of $5.14.
Separately, ValuEngine raised shares of Zosano Pharma from a "sell" rating to a "hold" rating in a research report on Wednesday, May 2nd.
In related news, major shareholder Amzak Capital Management, Llc sold 88,281 shares of the firm's stock in a transaction on Tuesday, February 27th. The shares were sold at an average price of $8.40, for a total value of $741,560.40. The transaction was disclosed in a filing with the Securities & Exchange Commission, which is accessible through the SEC website. 2.83% of the stock is currently owned by company insiders.
About Zosano Pharma
Zosano Pharma Corporation, a clinical stage biopharmaceutical company, focuses on providing therapeutics to patients suffering from migraine using its Adhesive Dermally-Applied Microarray technology. Its lead product candidate is M207, a proprietary formulation of zolmitriptan used for the treatment of migraine.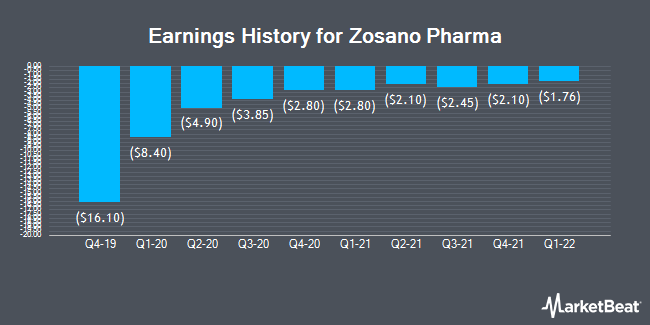 Receive News & Ratings for Zosano Pharma Daily - Enter your email address below to receive a concise daily summary of the latest news and analysts' ratings for Zosano Pharma and related companies with MarketBeat.com's FREE daily email newsletter.