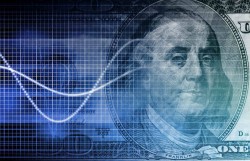 Business First Bancshares Inc (NASDAQ:BFST) Director Andrew D. Mclindon acquired 500 shares of the firm's stock in a transaction on Friday, June 8th. The stock was purchased at an average price of $24.50 per share, with a total value of $12,250.00. The purchase was disclosed in a document filed with the SEC, which is accessible through the SEC website.
NASDAQ:BFST opened at $24.61 on Wednesday. Business First Bancshares Inc has a 52 week low of $23.10 and a 52 week high of $30.00.
Business First Bancshares (NASDAQ:BFST) last released its earnings results on Thursday, April 26th. The company reported $0.34 earnings per share for the quarter. The company had revenue of $16.24 million for the quarter. equities analysts forecast that Business First Bancshares Inc will post 1.46 EPS for the current fiscal year.
The business also recently announced a quarterly dividend, which was paid on Thursday, May 31st. Stockholders of record on Tuesday, May 15th were given a dividend of $0.08 per share. This represents a $0.32 dividend on an annualized basis and a dividend yield of 1.30%. The ex-dividend date of this dividend was Monday, May 14th.
Separately, Raymond James assumed coverage on shares of Business First Bancshares in a research note on Tuesday. They issued a "strong-buy" rating for the company.
Business First Bancshares Company Profile
Business First Bancshares, Inc operates as the bank holding company for Business First Bank that provides various banking products and services. It offers various deposit products and services, including a range of checking, demand, money market, time, and savings accounts, as well as certificates of deposits, debit cards, remote deposit capture, online banking, mobile banking, e-Statements, bank-by-mail, and direct deposit services.
Receive News & Ratings for Business First Bancshares Daily - Enter your email address below to receive a concise daily summary of the latest news and analysts' ratings for Business First Bancshares and related companies with MarketBeat.com's FREE daily email newsletter.