Wall Street brokerages forecast that Kadmon Holdings Inc (NYSE:KDMN) will report $560,000.00 in sales for the current fiscal quarter, Zacks Investment Research reports. Three analysts have provided estimates for Kadmon's earnings. The highest sales estimate is $1.04 million and the lowest is $150,000.00. Kadmon reported sales of $2.28 million in the same quarter last year, which would suggest a negative year over year growth rate of 75.4%. The firm is scheduled to issue its next earnings report on Thursday, November 8th.
On average, analysts expect that Kadmon will report full year sales of $2.45 million for the current fiscal year, with estimates ranging from $1.04 million to $3.60 million. For the next financial year, analysts anticipate that the firm will post sales of $41.21 million, with estimates ranging from $600,000.00 to $115.64 million. Zacks Investment Research's sales calculations are a mean average based on a survey of research firms that that provide coverage for Kadmon.
Kadmon (NYSE:KDMN) last announced its earnings results on Thursday, August 9th. The company reported $0.24 EPS for the quarter, topping the consensus estimate of ($0.26) by $0.50. The company had revenue of $0.36 million for the quarter, compared to the consensus estimate of $0.90 million.
KDMN has been the subject of several research analyst reports. HC Wainwright set a $25.00 target price on shares of Kadmon and gave the stock a "buy" rating in a report on Monday, August 13th. Zacks Investment Research upgraded shares of Kadmon from a "hold" rating to a "buy" rating and set a $4.25 price objective for the company in a research note on Wednesday, July 11th. One equities research analyst has rated the stock with a sell rating, one has given a hold rating and four have assigned a buy rating to the company's stock. Kadmon has a consensus rating of "Buy" and an average price target of $11.45.
A number of institutional investors have recently modified their holdings of KDMN. Voya Investment Management LLC acquired a new stake in Kadmon in the 2nd quarter worth about $101,000. Metropolitan Life Insurance Co. NY acquired a new stake in Kadmon in the 2nd quarter worth about $105,000. Dynamic Technology Lab Private Ltd acquired a new stake in Kadmon in the 1st quarter worth about $106,000. Verition Fund Management LLC acquired a new stake in Kadmon in the 1st quarter worth about $139,000. Finally, MetLife Investment Advisors LLC acquired a new stake in Kadmon in the 2nd quarter worth about $148,000. Institutional investors and hedge funds own 69.66% of the company's stock.
Shares of KDMN stock opened at $3.47 on Friday. The stock has a market cap of $410.56 million, a P/E ratio of -2.46 and a beta of 3.49. Kadmon has a 52 week low of $3.17 and a 52 week high of $5.86.
Kadmon Company Profile
Kadmon Holdings, Inc, a biopharmaceutical company, discovers, develops, and commercializes small molecules and biologics primarily for the treatment of inflammatory and fibrotic diseases. The company markets and distributes a portfolio of branded generic ribavirin products for chronic hepatitis C virus infection; and distributes products in various therapeutic areas, including tetrabenazine for the treatment of chorea associated with Huntington's disease.
Recommended Story: Price to Earnings Ratio (PE) Basics

Get a free copy of the Zacks research report on Kadmon (KDMN)
For more information about research offerings from Zacks Investment Research, visit Zacks.com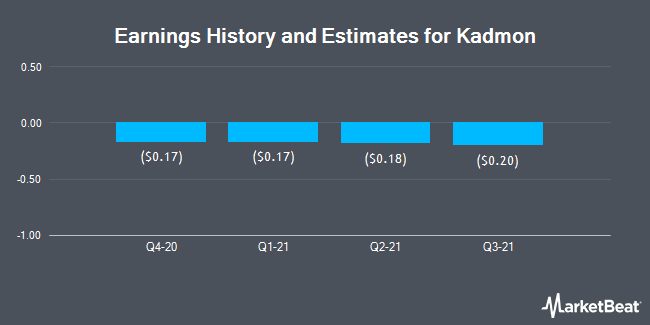 Receive News & Ratings for Kadmon Daily - Enter your email address below to receive a concise daily summary of the latest news and analysts' ratings for Kadmon and related companies with MarketBeat.com's FREE daily email newsletter.