WPP (LON:WPP) had its target price lowered by JPMorgan Chase & Co. from GBX 1,620 ($21.17) to GBX 1,070 ($13.98) in a research report sent to investors on Tuesday morning. The firm currently has an overweight rating on the stock.
Several other research firms have also weighed in on WPP. UBS Group restated a buy rating on shares of WPP in a report on Tuesday, October 9th. Shore Capital restated a hold rating on shares of WPP in a report on Friday, August 31st. Libertas Partners restated a buy rating and set a GBX 1,750 ($22.87) price target on shares of WPP in a report on Friday, August 10th. Liberum Capital restated a buy rating on shares of WPP in a report on Friday, November 2nd. Finally, Goldman Sachs Group set a GBX 1,441 ($18.83) price target on WPP and gave the company a neutral rating in a report on Monday, August 13th. Two equities research analysts have rated the stock with a sell rating, ten have issued a hold rating and seven have assigned a buy rating to the stock. The company currently has a consensus rating of Hold and a consensus price target of GBX 1,308.42 ($17.10).
Shares of LON WPP traded down GBX 16.40 ($0.21) during midday trading on Tuesday, reaching GBX 857 ($11.20). 3,885,943 shares of the stock traded hands, compared to its average volume of 6,860,000. WPP has a one year low of GBX 1,121.44 ($14.65) and a one year high of GBX 1,774 ($23.18).
The business also recently disclosed a dividend, which was paid on Monday, November 5th. Investors of record on Thursday, October 4th were given a dividend of GBX 22.70 ($0.30) per share. This represents a yield of 1.9%. The ex-dividend date was Thursday, October 4th.
In related news, insider Mark Read acquired 10,000 shares of the company's stock in a transaction that occurred on Thursday, September 6th. The shares were bought at an average price of GBX 1,145 ($14.96) per share, with a total value of £114,500 ($149,614.53).
About WPP
WPP plc provides various communications services worldwide. The company operates through four segments: Advertising and Media Investment Management; Data Investment Management; Public Relations & Public Affairs; and Branding Consulting, Health & Wellness and Specialist Communications. The Advertising and Media Investment Management segment provides advertising services; and media planning and buying, and specialist sponsorship, and branded entertainment services.
Recommended Story: Calculate Your Return on Investment (ROI)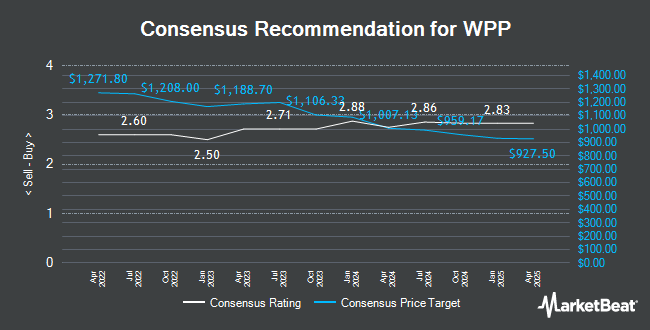 Receive News & Ratings for WPP Daily - Enter your email address below to receive a concise daily summary of the latest news and analysts' ratings for WPP and related companies with MarketBeat.com's FREE daily email newsletter.