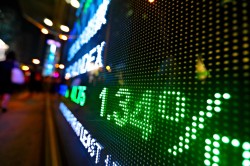 Northern Trust Corp grew its position in BRASILAGRO COMP/S (NYSE:LND) by 21.3% in the second quarter, according to the company in its most recent Form 13F filing with the Securities and Exchange Commission (SEC). The firm owned 166,009 shares of the company's stock after purchasing an additional 29,153 shares during the quarter. Northern Trust Corp's holdings in BRASILAGRO COMP/S were worth $577,000 as of its most recent filing with the Securities and Exchange Commission (SEC).
LND opened at $3.90 on Friday. The company has a market capitalization of $224.71 million, a price-to-earnings ratio of 3.69 and a beta of 0.88. BRASILAGRO COMP/S has a 1-year low of $3.30 and a 1-year high of $4.49. The company has a debt-to-equity ratio of 0.23, a current ratio of 2.21 and a quick ratio of 1.15.
Separately, TheStreet upgraded shares of BRASILAGRO COMP/S from a "c" rating to a "b" rating in a research report on Monday, November 19th.
ILLEGAL ACTIVITY WARNING: This piece was first published by Transcript Daily and is the property of of Transcript Daily. If you are reading this piece on another domain, it was copied illegally and reposted in violation of United States and international copyright & trademark law. The correct version of this piece can be accessed at https://transcriptdaily.com/2018/12/07/brasilagro-comp-s-lnd-holdings-boosted-by-northern-trust-corp.html.
About BRASILAGRO COMP/S
BrasilAgro – Companhia Brasileira de Propriedades Agrícolas engages in the acquisition, development, operation, and sale of rural properties suitable for agricultural activities in Brazil. The company operates through five segments: Real Estate, Grains, Sugarcane, Cattle Raising, and Other. It is involved in the cultivation of soybean, corn, sorghum, and cotton, as well as sugarcane; and production and sale of beef calves after weaning.
Featured Story: Trading Penny Stocks

Want to see what other hedge funds are holding LND? Visit HoldingsChannel.com to get the latest 13F filings and insider trades for BRASILAGRO COMP/S (NYSE:LND).
Receive News & Ratings for BRASILAGRO COMP/S Daily - Enter your email address below to receive a concise daily summary of the latest news and analysts' ratings for BRASILAGRO COMP/S and related companies with MarketBeat.com's FREE daily email newsletter.