Peel Hunt initiated coverage on shares of Ultra Electronics (LON:ULE) in a report published on Monday morning. The brokerage issued an add rating and a GBX 1,450 ($18.95) price objective on the stock.
Several other research analysts also recently commented on ULE. Barclays downgraded Ultra Electronics to an underweight rating and cut their target price for the stock from GBX 1,460 ($19.08) to GBX 1,120 ($14.63) in a report on Thursday, December 13th. JPMorgan Chase & Co. cut their target price on Ultra Electronics from GBX 1,950 ($25.48) to GBX 1,850 ($24.17) and set a neutral rating on the stock in a report on Friday, December 14th. Finally, Goldman Sachs Group lifted their target price on Ultra Electronics from GBX 1,755 ($22.93) to GBX 1,820 ($23.78) and gave the stock a neutral rating in a report on Wednesday, January 9th. One research analyst has rated the stock with a sell rating, five have assigned a hold rating and two have assigned a buy rating to the stock. The stock presently has an average rating of Hold and a consensus target price of GBX 1,658.75 ($21.67).
LON:ULE opened at GBX 1,319 ($17.24) on Monday. Ultra Electronics has a fifty-two week low of GBX 1,138 ($14.87) and a fifty-two week high of GBX 2,231 ($29.15).
In related news, insider Simon Pryce bought 7,500 shares of the business's stock in a transaction on Thursday, December 13th. The shares were purchased at an average cost of GBX 1,283 ($16.76) per share, with a total value of £96,225 ($125,735.01).
About Ultra Electronics
Ultra Electronics Holdings plc, together with its subsidiaries, provides various solutions and products in the defense and aerospace, security and cyber, transport, and energy markets. The company operates in three segments: Aerospace & Infrastructure, Communications & Security, and Maritime & Land.
Further Reading: What are Closed-End Mutual Funds?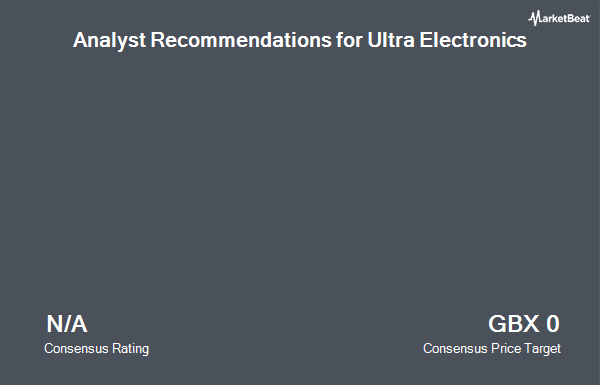 Receive News & Ratings for Ultra Electronics Daily - Enter your email address below to receive a concise daily summary of the latest news and analysts' ratings for Ultra Electronics and related companies with MarketBeat.com's FREE daily email newsletter.