TECSYS Inc. (TSE:TCS) declared a quarterly dividend on Thursday, February 28th, Zacks reports. Stockholders of record on Thursday, March 21st will be given a dividend of 0.055 per share on Thursday, April 11th. This represents a $0.22 annualized dividend and a dividend yield of 1.58%. The ex-dividend date of this dividend is Wednesday, March 20th. This is a boost from TECSYS's previous quarterly dividend of $0.05.
Shares of TECSYS stock opened at C$13.90 on Friday. TECSYS has a one year low of C$10.30 and a one year high of C$17.50. The firm has a market capitalization of $181.84 million and a P/E ratio of 185.33. The company has a current ratio of 1.83, a quick ratio of 1.24 and a debt-to-equity ratio of 30.03.
A number of brokerages recently commented on TCS. National Bank Financial reaffirmed an "outperform" rating and issued a C$18.00 target price on shares of TECSYS in a report on Tuesday, March 5th. Echelon Wealth Partners reaffirmed a "buy" rating on shares of TECSYS in a report on Friday, February 1st. Finally, Beacon Securities raised TECSYS from a "hold" rating to a "buy" rating in a report on Friday, February 1st.
COPYRIGHT VIOLATION NOTICE: "TECSYS Inc. (TCS) Plans Quarterly Dividend of $0.06" was reported by Transcript Daily and is owned by of Transcript Daily. If you are viewing this piece on another website, it was stolen and reposted in violation of US and international copyright laws. The correct version of this piece can be accessed at https://transcriptdaily.com/2019/03/15/tecsys-inc-tcs-plans-quarterly-dividend-of-0-06.html.
About TECSYS
TECSYS Inc engages in the development, marketing, and sale of supply chain management software for distribution, warehousing, transportation logistics, and point-of-use in Canada, the United States, and internationally. The company offers warehouse management, distribution management, transportation management, and supply management at point-of-use, as well as financial management and analytics solutions; ITopia, a Healthcare Logistics Platform.
Read More: Why is the ROA ratio important?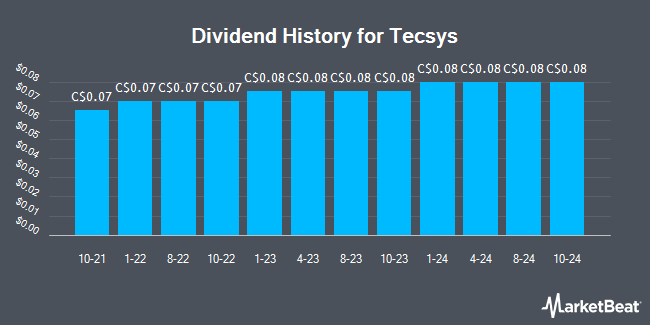 Receive News & Ratings for TECSYS Daily - Enter your email address below to receive a concise daily summary of the latest news and analysts' ratings for TECSYS and related companies with MarketBeat.com's FREE daily email newsletter.