Repligen (NASDAQ:RGEN) issued an update on its FY19 earnings guidance on Thursday morning. The company provided earnings per share (EPS) guidance of $0.84-0.90 for the period, compared to the Thomson Reuters consensus estimate of $0.83. The company issued revenue guidance of $235-241 million, compared to the consensus revenue estimate of $220.74 million.
NASDAQ RGEN opened at $69.28 on Friday. Repligen has a 52 week low of $40.61 and a 52 week high of $71.21. The stock has a market cap of $3.08 billion, a PE ratio of 94.90, a price-to-earnings-growth ratio of 4.75 and a beta of 1.13.
Repligen (NASDAQ:RGEN) last released its quarterly earnings results on Thursday, May 9th. The biotechnology company reported $0.28 EPS for the quarter, beating the Thomson Reuters' consensus estimate of $0.26 by $0.02. Repligen had a net margin of 10.11% and a return on equity of 6.40%. The firm had revenue of $60.63 million during the quarter, compared to analyst estimates of $55.09 million. During the same quarter in the prior year, the firm earned $0.17 EPS. The business's revenue for the quarter was up 35.3% compared to the same quarter last year. As a group, sell-side analysts expect that Repligen will post 0.84 earnings per share for the current fiscal year.
RGEN has been the subject of a number of recent research reports. ValuEngine downgraded Repligen from a strong-buy rating to a buy rating in a research note on Thursday, April 4th. Zacks Investment Research upgraded Repligen from a sell rating to a hold rating in a research note on Wednesday, February 27th. Finally, BidaskClub downgraded Repligen from a hold rating to a sell rating in a research note on Tuesday, April 9th. One investment analyst has rated the stock with a sell rating, three have given a hold rating and six have given a buy rating to the company. The company currently has an average rating of Buy and an average target price of $63.60.
In related news, CEO Anthony Hunt sold 7,475 shares of the business's stock in a transaction that occurred on Thursday, February 28th. The stock was sold at an average price of $59.01, for a total transaction of $441,099.75. Following the completion of the transaction, the chief executive officer now directly owns 250,132 shares in the company, valued at approximately $14,760,289.32. The sale was disclosed in a filing with the SEC, which is available at this hyperlink. Also, VP Ralf Kuriyel sold 2,240 shares of the business's stock in a transaction that occurred on Tuesday, March 5th. The shares were sold at an average price of $58.53, for a total value of $131,107.20. Following the transaction, the vice president now owns 21,043 shares of the company's stock, valued at $1,231,646.79. The disclosure for this sale can be found here. Over the last quarter, insiders have sold 48,437 shares of company stock valued at $2,855,032. 1.70% of the stock is currently owned by corporate insiders.
TRADEMARK VIOLATION WARNING: "Repligen (RGEN) Releases FY19 Earnings Guidance" was reported by Transcript Daily and is owned by of Transcript Daily. If you are reading this article on another domain, it was stolen and reposted in violation of United States and international trademark & copyright laws. The correct version of this article can be read at https://transcriptdaily.com/2019/05/11/repligen-rgen-releases-fy19-earnings-guidance.html.
About Repligen
Repligen Corporation develops, manufactures, and sells products used to enhance the interconnected phases of the biological drug manufacturing process in North America, Europe, APAC, and internationally. It offers Protein A ligands to life sciences companies, which are the binding components of Protein A affinity resins; and growth factor products used to supplement cell culture media.
Recommended Story: Discount Rate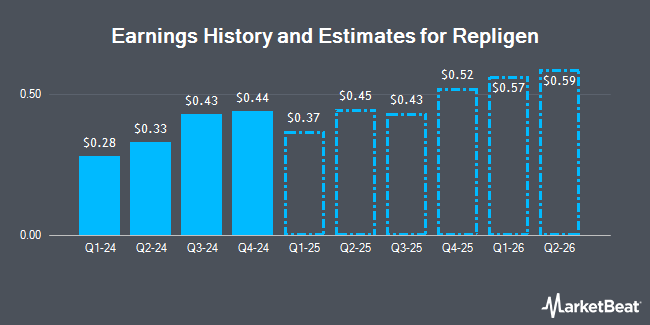 Receive News & Ratings for Repligen Daily - Enter your email address below to receive a concise daily summary of the latest news and analysts' ratings for Repligen and related companies with MarketBeat.com's FREE daily email newsletter.