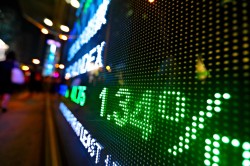 China Pharma (NYSEAMERICAN:CPHI) issued its earnings results on Wednesday. The company reported ($0.01) EPS for the quarter, RTT News reports. The firm had revenue of $2.93 million for the quarter.
Shares of NYSEAMERICAN:CPHI traded down $0.02 during trading on Thursday, reaching $0.32. 83,746 shares of the company were exchanged, compared to its average volume of 763,060. China Pharma has a 12-month low of $0.19 and a 12-month high of $0.84.
An institutional investor recently bought a new position in China Pharma stock. Virtu Financial LLC acquired a new stake in shares of China Pharma Holdings, Inc. (NYSEAMERICAN:CPHI) during the 4th quarter, according to its most recent Form 13F filing with the Securities and Exchange Commission (SEC). The firm acquired 97,840 shares of the company's stock, valued at approximately $25,000. Virtu Financial LLC owned 0.22% of China Pharma as of its most recent SEC filing.
COPYRIGHT VIOLATION NOTICE: "China Pharma (CPHI) Releases Earnings Results" was first reported by Transcript Daily and is the sole property of of Transcript Daily. If you are viewing this article on another publication, it was illegally stolen and reposted in violation of United States and international trademark & copyright laws. The legal version of this article can be read at https://transcriptdaily.com/2019/05/16/china-pharma-cphi-releases-earnings-results.html.
China Pharma Company Profile
China Pharma Holdings, Inc engages in the development, manufacture, and marketing of pharmaceutical products. It caters people with cardiovascular, central nervous system, infectious, and digestive diseases. The company was founded by Zhi Lin Li on January 28, 1999 and is headquartered in Haikou, China.
Read More: How does a 12b-1 fee affect fund performance?

Receive News & Ratings for China Pharma Daily - Enter your email address below to receive a concise daily summary of the latest news and analysts' ratings for China Pharma and related companies with MarketBeat.com's FREE daily email newsletter.