Sprott Inc. (TSE:SII) announced a quarterly dividend on Friday, May 17th, TickerTech reports. Investors of record on Wednesday, June 5th will be paid a dividend of 0.03 per share on Wednesday, June 5th. This represents a $0.12 annualized dividend and a yield of 3.92%. The ex-dividend date is Friday, May 17th.
Shares of SII stock opened at C$3.06 on Thursday. Sprott has a 12-month low of C$2.36 and a 12-month high of C$3.48. The company has a debt-to-equity ratio of 6.38, a quick ratio of 1.87 and a current ratio of 2.51. The company has a market capitalization of $735.49 million and a P/E ratio of 41.35.
Sprott (TSE:SII) last issued its earnings results on Friday, May 10th. The company reported C$0.01 earnings per share (EPS) for the quarter, missing the Thomson Reuters' consensus estimate of C$0.03 by C($0.02). The company had revenue of C$19.40 million for the quarter. As a group, equities analysts predict that Sprott will post 0.129999995695364 EPS for the current year.
Several equities research analysts recently issued reports on SII shares. TD Securities upgraded shares of Sprott from a "reduce" rating to a "hold" rating and set a C$2.50 target price on the stock in a report on Tuesday, January 22nd. Desjardins dropped their target price on shares of Sprott from C$2.75 to C$2.50 in a report on Monday, February 4th.
WARNING: This story was originally reported by Transcript Daily and is owned by of Transcript Daily. If you are viewing this story on another website, it was stolen and republished in violation of United States & international copyright and trademark law. The legal version of this story can be read at https://transcriptdaily.com/2019/05/16/sprott-inc-sii-declares-0-03-quarterly-dividend.html.
Sprott Company Profile
Sprott Inc is a publicly owned asset management holding company. Through its subsidiaries, the firm provides asset management, portfolio management, wealth management, fund management, and administrative and consulting services to its clients. It offers mutual funds, hedge funds, and offshore funds, along with managed accounts.
Featured Story: The mechanics of the bid-ask spread in trading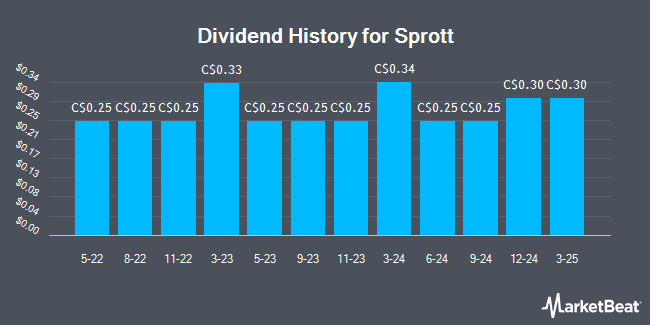 Receive News & Ratings for Sprott Daily - Enter your email address below to receive a concise daily summary of the latest news and analysts' ratings for Sprott and related companies with MarketBeat.com's FREE daily email newsletter.