National Bankshares Inc. (NASDAQ:NKSH) declared a semiannual dividend on Friday, May 17th, Wall Street Journal reports. Stockholders of record on Tuesday, May 28th will be given a dividend of 0.67 per share by the bank on Monday, June 3rd. This represents a dividend yield of 3.25%. The ex-dividend date of this dividend is Friday, May 24th. This is a positive change from National Bankshares's previous semiannual dividend of $0.63.
National Bankshares has raised its dividend by an average of 2.0% annually over the last three years and has increased its dividend annually for the last 17 consecutive years.
Shares of NKSH traded up $0.89 during mid-day trading on Friday, hitting $41.29. 9,529 shares of the company traded hands, compared to its average volume of 16,312. The company has a quick ratio of 0.74, a current ratio of 0.74 and a debt-to-equity ratio of 0.01. National Bankshares has a 1 year low of $33.65 and a 1 year high of $49.75. The stock has a market capitalization of $260.09 million, a price-to-earnings ratio of 15.99 and a beta of 0.44.
National Bankshares (NASDAQ:NKSH) last released its quarterly earnings data on Thursday, April 18th. The bank reported $0.65 earnings per share for the quarter, beating the consensus estimate of $0.59 by $0.06. National Bankshares had a net margin of 33.22% and a return on equity of 9.28%.
Several brokerages recently issued reports on NKSH. BidaskClub upgraded shares of National Bankshares from a "hold" rating to a "buy" rating in a research report on Tuesday, March 19th. Sandler O'Neill upgraded shares of National Bankshares from a "hold" rating to a "buy" rating and set a $42.50 target price for the company in a research report on Monday, February 4th. They noted that the move was a valuation call.
In other National Bankshares news, Director Norman V. Fitzwater III bought 1,000 shares of the business's stock in a transaction that occurred on Tuesday, March 12th. The stock was bought at an average cost of $41.78 per share, for a total transaction of $41,780.00. Following the completion of the transaction, the director now owns 5,000 shares of the company's stock, valued at approximately $208,900. The transaction was disclosed in a filing with the Securities & Exchange Commission, which is available through this hyperlink. Insiders have purchased 2,712 shares of company stock valued at $109,805 over the last 90 days. 3.73% of the stock is currently owned by company insiders.
An institutional investor recently raised its position in National Bankshares stock. Geode Capital Management LLC grew its position in National Bankshares Inc. (NASDAQ:NKSH) by 6.4% in the fourth quarter, according to the company in its most recent Form 13F filing with the Securities and Exchange Commission (SEC). The firm owned 62,180 shares of the bank's stock after purchasing an additional 3,764 shares during the quarter. Geode Capital Management LLC owned approximately 0.89% of National Bankshares worth $2,265,000 as of its most recent filing with the Securities and Exchange Commission (SEC). 38.21% of the stock is currently owned by institutional investors.
COPYRIGHT VIOLATION WARNING: This piece of content was posted by Transcript Daily and is owned by of Transcript Daily. If you are reading this piece of content on another website, it was illegally stolen and republished in violation of United States and international trademark and copyright laws. The legal version of this piece of content can be accessed at https://transcriptdaily.com/2019/05/17/national-bankshares-inc-nksh-to-issue-semiannual-dividend-of-0-67.html.
National Bankshares Company Profile
National Bankshares, Inc operates as the bank holding company for the National Bank of Blacksburg that provides retail and commercial banking services to individuals, businesses, non-profits, and local governments. The company accepts interest-bearing and non-interest bearing demand deposit accounts, money market deposit accounts, savings accounts, certificates of deposit, and individual retirement accounts.
Featured Story: Real Estate Investment Trust (REIT) ETF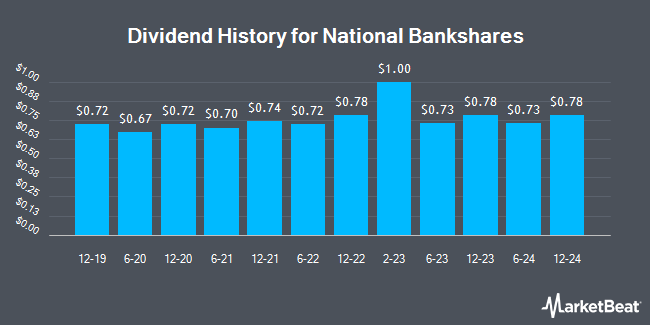 Receive News & Ratings for National Bankshares Daily - Enter your email address below to receive a concise daily summary of the latest news and analysts' ratings for National Bankshares and related companies with MarketBeat.com's FREE daily email newsletter.