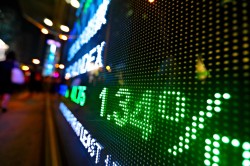 Shoal Point Energy Ltd (CNSX:SHP) Director Mark Clayton Jarvis sold 124,000 shares of Shoal Point Energy stock in a transaction that occurred on Friday, October 18th. The stock was sold at an average price of $0.18, for a total value of $22,369.60. Following the completion of the sale, the director now owns 2,078,600 shares in the company, valued at $374,979.44.
The stock has a 50-day moving average price of $0.11 and a two-hundred day moving average price of $0.07.
About Shoal Point Energy
Shoal Point Energy Ltd., an exploration stage company, engages in the acquisition, exploration, and development of oil and natural gas properties in Canada. It holds interest in the Humber Arm shale play covering an area of approximately 220,000 acres located in the west coast of Newfoundland. The company was incorporated in 2006 and is headquartered in Vancouver, Canada.
Featured Story: What are no-load funds?

Receive News & Ratings for Shoal Point Energy Daily - Enter your email address below to receive a concise daily summary of the latest news and analysts' ratings for Shoal Point Energy and related companies with MarketBeat.com's FREE daily email newsletter.