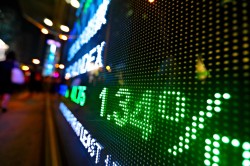 Banco del Bajio (OTCMKTS:BBAJF) was upgraded by equities researchers at Barclays from an "underweight" rating to an "equal weight" rating in a research report issued on Tuesday, The Fly reports.
OTCMKTS BBAJF opened at $1.61 on Tuesday. Banco del Bajio has a 12 month low of $1.57 and a 12 month high of $2.07.
Banco del Bajio Company Profile
Banco del Bajío, SA, Institución de Banca Múltiple provides various banking products and services to individuals, corporations, governments, and small and medium enterprises in Mexico. The company offers appraisal, credit, account, foreign exchange, roster, and special project products; electronic, specialized, and insurance banking products; and credit, debit, and business cards.
Featured Article: What does a neutral rating on stocks mean?

Receive News & Ratings for Banco del Bajio Daily - Enter your email address below to receive a concise daily summary of the latest news and analysts' ratings for Banco del Bajio and related companies with MarketBeat.com's FREE daily email newsletter.