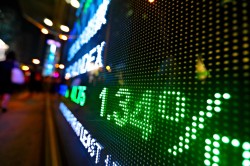 FalconStor Software (OTCMKTS:FALC) will release its earnings data after the market closes on Thursday, November 14th. Persons interested in registering for the company's earnings conference call can do so using this link.
FalconStor Software (OTCMKTS:FALC) last announced its quarterly earnings results on Wednesday, August 14th. The software maker reported ($0.16) EPS for the quarter. FalconStor Software had a negative net margin of 9.85% and a negative return on equity of 0.46%. The firm had revenue of $4.00 million during the quarter.
Shares of FALC opened at $4.07 on Thursday. FalconStor Software has a 52 week low of $3.00 and a 52 week high of $17.00. The stock has a fifty day moving average of $5.38 and a 200-day moving average of $3.10.
Separately, ValuEngine upgraded FalconStor Software from a "hold" rating to a "buy" rating in a research note on Friday, October 11th.
FalconStor Software Company Profile
FalconStor Software, Inc, a storage software company, develops, manufactures, and sells data migration, business continuity, disaster recovery, optimized backup, and de-duplication solutions worldwide. It offers FreeStor, a software-defined platform that provides migration, continuity, protection/recovery, and optimization for storage environment through a single management interface; FalconStor network storage server for migration, storage virtualization, provisioning, and management; and FalconStor continuous data protector for bootable snapshots, zero-impact backup, and local and remote disaster recovery.
Featured Article: What is the cash asset ratio?
Receive News & Ratings for FalconStor Software Daily - Enter your email address below to receive a concise daily summary of the latest news and analysts' ratings for FalconStor Software and related companies with MarketBeat.com's FREE daily email newsletter.