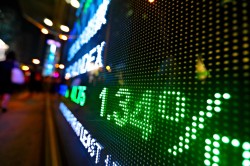 Applied Therapeutics (NASDAQ:APLT) issued its quarterly earnings results on Wednesday. The company reported ($0.63) earnings per share (EPS) for the quarter, missing analysts' consensus estimates of ($0.49) by ($0.14), Fidelity Earnings reports.
Shares of Applied Therapeutics stock traded down $0.83 on Friday, reaching $14.16. 22,800 shares of the stock were exchanged, compared to its average volume of 31,379. The stock's fifty day simple moving average is $13.23. Applied Therapeutics has a 1-year low of $7.95 and a 1-year high of $20.50.
Separately, Zacks Investment Research lowered shares of Applied Therapeutics from a "buy" rating to a "hold" rating in a research note on Monday, October 14th. One equities research analyst has rated the stock with a hold rating and four have assigned a buy rating to the company. The stock currently has a consensus rating of "Buy" and an average target price of $21.33.
About Applied Therapeutics
Applied Therapeutics, Inc, a biopharmaceutical company, develops novel products to target cardiovascular disease, galactosemia, and diabetic complications. Its lead product candidate is AT-001 that is in phase II clinical trials for treating diabetic cardiomyopathy, as well as is in phase I clinical trials to treat diabetic peripheral neuropathy.
Featured Article: What is the Dividend Aristocrat Index?
Receive News & Ratings for Applied Therapeutics Daily - Enter your email address below to receive a concise daily summary of the latest news and analysts' ratings for Applied Therapeutics and related companies with MarketBeat.com's FREE daily email newsletter.