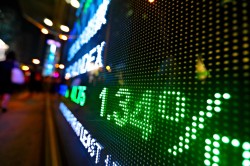 Joey New York Inc (OTCMKTS:JOEY)'s share price traded down 2% during trading on Monday . The company traded as low as $0.00 and last traded at $0.00, 6,000 shares changed hands during trading. A decline of 95% from the average session volume of 131,714 shares. The stock had previously closed at $0.01.
About Joey New York (OTCMKTS:JOEY)
Joey New York, Inc, through its subsidiary, RAR Beauty, LLC, manufactures and markets natural skin care and beauty products in the United States and Internationally. The company operates through The LABB, Aesthetic Beauty Bar; and Joey New York Cosmetics divisions. The LABB, Aesthetic Beauty Bar division provides injectable services, which eliminate unwanted wrinkles by performing Botox and filler injections.
Read More: Investing in Dividend Stocks
Receive News & Ratings for Joey New York Daily - Enter your email address below to receive a concise daily summary of the latest news and analysts' ratings for Joey New York and related companies with MarketBeat.com's FREE daily email newsletter.