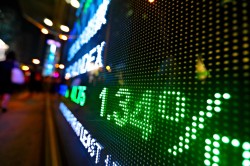 Shares of ClearStream Energy Services Inc (TSE:CSM) traded down 16.7% during trading on Thursday . The company traded as low as C$0.05 and last traded at C$0.05, 37,100 shares were traded during mid-day trading. A decline of 91% from the average session volume of 431,771 shares. The stock had previously closed at C$0.06.
The company has a market cap of $6.60 million and a P/E ratio of 4.55. The stock has a 50-day simple moving average of C$0.06 and a 200 day simple moving average of C$0.06.
ClearStream Energy Services (TSE:CSM) last issued its earnings results on Tuesday, November 5th. The company reported C$0.01 EPS for the quarter. The firm had revenue of C$139.53 million during the quarter.
ClearStream Energy Services Company Profile (TSE:CSM)
ClearStream Energy Services Inc provides midstream production services to the oil and gas, petrochemical, mining, power, agriculture, forestry, infrastructure, and water treatment sectors in Western Canada. It operates through Maintenance and Construction Services; and Wear, Fabrication and Transportation Services.
See Also: Technical Analysis of Stocks, How Can It Help
Receive News & Ratings for ClearStream Energy Services Daily - Enter your email address below to receive a concise daily summary of the latest news and analysts' ratings for ClearStream Energy Services and related companies with MarketBeat.com's FREE daily email newsletter.