Secureworks (NASDAQ:SCWX) released its quarterly earnings results on Thursday. The technology company reported $0.01 earnings per share for the quarter, topping analysts' consensus estimates of ($0.03) by $0.04, Briefing.com reports. The business had revenue of $141.33 million during the quarter, compared to analysts' expectations of $136.12 million. Secureworks had a negative return on equity of 1.61% and a negative net margin of 6.38%. The company's revenue was up 6.2% compared to the same quarter last year. During the same period in the prior year, the business posted $0.06 EPS.
Shares of NASDAQ SCWX traded up $0.56 during mid-day trading on Friday, reaching $15.11. 488,419 shares of the company's stock were exchanged, compared to its average volume of 217,399. The firm has a market capitalization of $1.40 billion, a price-to-earnings ratio of -94.44 and a beta of 1.06. The company has a debt-to-equity ratio of 0.04, a quick ratio of 1.07 and a current ratio of 1.07. Secureworks has a 52-week low of $10.37 and a 52-week high of $24.91. The company's 50-day moving average is $11.98 and its 200-day moving average is $12.73.
SCWX has been the subject of a number of research analyst reports. ValuEngine upgraded Secureworks from a "hold" rating to a "buy" rating in a report on Thursday. Goldman Sachs Group initiated coverage on Secureworks in a report on Tuesday, November 12th. They set a "sell" rating and a $12.00 price target for the company. Zacks Investment Research cut Secureworks from a "strong-buy" rating to a "hold" rating in a report on Wednesday, November 6th. Finally, BidaskClub cut Secureworks from a "sell" rating to a "strong sell" rating in a report on Thursday, November 14th. Four analysts have rated the stock with a sell rating, three have issued a hold rating and one has given a buy rating to the stock. Secureworks currently has a consensus rating of "Hold" and an average price target of $14.25.
Secureworks Company Profile
SecureWorks Corp., a cybersecurity company, provides an integrated suite of intelligence-driven information security solutions focused on protecting organizations worldwide. The company's solutions include managed security, threat intelligence, security and risk consulting, and incident response.
Read More: Euro STOXX 50 Index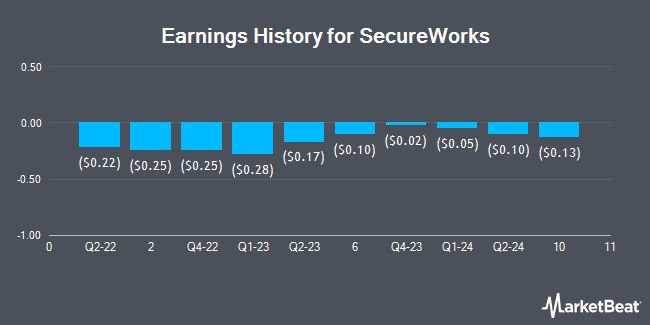 Receive News & Ratings for Secureworks Daily - Enter your email address below to receive a concise daily summary of the latest news and analysts' ratings for Secureworks and related companies with MarketBeat.com's FREE daily email newsletter.