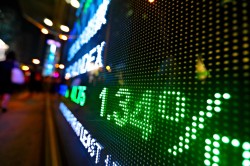 EQT AB (publ) (OTCMKTS:EQBBF)'s share price traded up 12.3% during trading on Friday . The company traded as high as $15.30 and last traded at $15.30, 3,000 shares traded hands during trading. The stock had previously closed at $13.63.
Separately, JPMorgan Chase & Co. downgraded shares of EQT AB (publ) from an "overweight" rating to a "neutral" rating in a research report on Friday, January 24th.
EQT AB (publ) Company Profile (OTCMKTS:EQBBF)
EQT AB is a private equity firm specializing in buyout investments. It seeks to take a majority stake. EQT AB was founded in 2012 and is based in Stockholm, Sweden.
Further Reading: Asset Allocation, Balancing Your Investments
Receive News & Ratings for EQT AB (publ) Daily - Enter your email address below to receive a concise daily summary of the latest news and analysts' ratings for EQT AB (publ) and related companies with MarketBeat.com's FREE daily email newsletter.