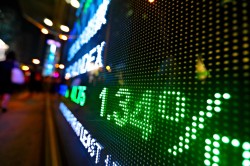 Zacks Investment Research upgraded shares of Global Eagle Entertainment (OTCMKTS:GEENQ) from a sell rating to a hold rating in a research note issued to investors on Monday morning, Zacks.com reports.
According to Zacks, "Global Eagle Entertainment Inc. offers content and connectivity services for the airline industry. It provides airlines with in-flight video content, e-commerce and information services. Global Eagle Entertainment Inc., formerly known as Global Eagle Acquisition Corp., is headquartered in Los Angeles, California. "
Global Eagle Entertainment stock opened at $0.85 on Monday. Global Eagle Entertainment has a 12 month low of $0.30 and a 12 month high of $23.25.
Global Eagle Entertainment Company Profile
Global Eagle Entertainment Inc provides media and satellite-based connectivity solutions worldwide. The company operates in two segments, Media & Content and Connectivity. The Media & Content buys, produces, manages, distributes, and provides wholly-owned and licensed media content, video and music programming, advertising, applications, and video games, as well as post-production services for and to the airline, maritime, and other away-from-home non-theatrical markets.
Featured Article: Market Capitalization and Individual Investors
Get a free copy of the Zacks research report on Global Eagle Entertainment (GEENQ)
For more information about research offerings from Zacks Investment Research, visit Zacks.com
Receive News & Ratings for Global Eagle Entertainment Daily - Enter your email address below to receive a concise daily summary of the latest news and analysts' ratings for Global Eagle Entertainment and related companies with MarketBeat.com's FREE daily email newsletter.