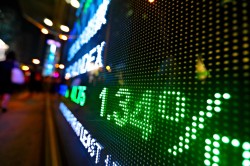 BK CHINA LTD/ADR (OTCMKTS:BACHY) saw a significant increase in short interest in the month of September. As of September 15th, there was short interest totalling 28,100 shares, an increase of 869.0% from the August 31st total of 2,900 shares. Based on an average daily trading volume, of 328,800 shares, the days-to-cover ratio is presently 0.1 days.
BACHY opened at $7.71 on Monday. BK CHINA LTD/ADR has a twelve month low of $7.65 and a twelve month high of $10.89. The company has a fifty day moving average of $8.18 and a 200-day moving average of $8.97. The stock has a market cap of $90.79 billion, a PE ratio of 3.95 and a beta of 0.56.
BK CHINA LTD/ADR Company Profile
Bank of China Limited, together with its subsidiaries, provides a range of banking and related financial services in the People's Republic of China and internationally. It operates in six segments: Corporate Banking, Personal Banking, Treasury Operations, Investment Banking, Insurance, and Other Operations.
Featured Story: Elliott Wave Theory
Receive News & Ratings for BK CHINA LTD/ADR Daily - Enter your email address below to receive a concise daily summary of the latest news and analysts' ratings for BK CHINA LTD/ADR and related companies with MarketBeat.com's FREE daily email newsletter.