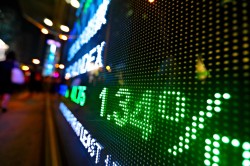 BRP Group, Inc. (NASDAQ:BRP) was the target of a significant growth in short interest in September. As of September 30th, there was short interest totalling 688,100 shares, a growth of 75.9% from the September 15th total of 391,100 shares. Approximately 5.4% of the shares of the stock are sold short. Based on an average daily volume of 309,900 shares, the days-to-cover ratio is currently 2.2 days.
Shares of NASDAQ:BRP opened at $27.66 on Friday. The company has a current ratio of 2.15, a quick ratio of 2.15 and a debt-to-equity ratio of 0.53. BRP Group has a 1-year low of $8.35 and a 1-year high of $30.15. The company has a market cap of $938.81 million and a price-to-earnings ratio of 138.30.
BRP Group (NASDAQ:BRP) last issued its quarterly earnings results on Thursday, August 13th. The company reported $0.08 earnings per share for the quarter, missing the consensus estimate of $0.09 by ($0.01). The business had revenue of $51.27 million for the quarter, compared to analyst estimates of $53.18 million. On average, equities research analysts predict that BRP Group will post 0.39 EPS for the current fiscal year.
BRP has been the topic of several analyst reports. Raymond James lifted their price target on shares of BRP Group from $25.00 to $30.00 and gave the company an "outperform" rating in a report on Wednesday, October 7th. ValuEngine raised shares of BRP Group from a "hold" rating to a "buy" rating in a report on Thursday, October 1st.
About BRP Group
BRP Group, Inc operates as an insurance distribution company in the United States and internationally. The company operates through four segments: Middle Market, Specialty, MainStreet, and Medicare. The Middle Market segment provides private risk management, commercial risk management, and employee benefits solutions for mid-to-large size businesses and high net worth individuals and families.
Further Reading: Google Finance Portfolio Tips and Tricks

Receive News & Ratings for BRP Group Daily - Enter your email address below to receive a concise daily summary of the latest news and analysts' ratings for BRP Group and related companies with MarketBeat.com's FREE daily email newsletter.