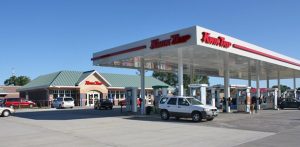 On Wednesday, convenience store operating firm Kwik Trip Inc announced their agreement to acquire assets from the convenience store chain PDQ Food Stores Inc. For now, the price of this deal has not been disclosed but, a press release describes:
"This acquisition allows Kwik Trip to expand its presence in a market that is important to its overall retail growth strategy. The PDQ management and employees have built an excellent brand over their 65 years in business and are well known for their excellent customer service and convenience."
Effectively, this deal will allow for the La Crosse-based Kwik Trip to expand its market presence in the southern Wisconsin area. Of course, they will be acquiring [pieces] of the 34 company run stores from the Middleton-based PDQ; most of these are in the Madison area while there are nine in or around Milwaukee.
Third generation owner Mark Zietlow—who is also a real estate manager—notes, "With the acquisition of PDQ and future remodel of the PDQ locations we anticipate adding more than 1,000 jobs."
In order to accomplish this, Kwik Trip will spend between $30 and $40 million, according to company spokesman John McHugh. Part or this budget, though, will be assigned to installing Kwik Trip's proprietary food program that includes hot food counters and fresh produce areas; of course, some of the budget will go towards exterior remodeling as well.
Zietlow goes on to say, "Our family is committed to owning and growing the company for another years. The PDQ store locations are an excellent fit in our growth strategy for Wisconsin."
Kwik Trip, of course, runs one of the biggest independently held convenience store chains in the United States. In just the Wisconsin, Iowa, and Minnesota area, alone, there are more than 570 stores, operating as Kwik Star in some states. In total, the company employees more than 19,000 people.
PDQ first started as a company in 1949, though it was not named such until 1962, when it was branded "Pretty Darn Quick." It was owned by the Jacobsen family until they sold the company to employees in 2009.